"The prime cause of cancer is the replacement of the respiration of oxygen in normal body cells by a fermentation of sugar. All normal body cells meet their energy needs by respiration of oxygen, whereas cancer cells meet their energy needs in great part by fermentation."  Dr Otto Warburg

Healthy cells respirate by burning oxygen with a small amount of glucose in order to produce their energy; this is also known as aerobic respiration, or "with oxygen."  Back in the 1920's, Dr Warburg discovered that cancerous cells respirate differently from healthy cells.  More specifically, he found that cancerous cells acquire their energy by breaking down large amounts of glucose through a process of fermentation; this is also known as anaerobic respiration, or "without oxygen."  This change in energy production occurs when the cellular oxygen levels drop below 60% and the respiration process is forced to change over to the fermentation process, thus turning normal cells into cancerous cells.
Additionally, fermentation is a form of energy production that is 19 times less efficient than when using oxygen, and the process creates a lactic acid by-product that continues to make the body even more acidic.  The liver then takes up this lactic acid and converts it back into glucose, which then goes back to feed the cancer.  If this taxing cycle is not addressed it can eventually lead to cachexia, also known as wasting disease.
What reduces the oxygen levels in the cells?
An acidic, low-oxygen environment in the body which is a result of eating diets that are heavy in sugars, dairy, meats, refined grains, fast foods and processed foods. These foods are all lacking in essential micro-nutrients, they leave behind an acidic ash following digestion, and they make up such a large portion of our diets.
A lack of the proper building blocks for the cellular membranes that don't allow for the transfer of oxygen and nutrients into the cells. Cell membranes are made up of lipids (fats), and the body will use whatever form of fats that you are consuming, even if they are toxic and will clog the cells.
This lack of permeability of the cell membrane will cause a buildup of cellular toxicity which further damages the respiratory mechanisms within the cells; not allowing the cell to breathe and remove waste as it had before, forcing the cell to switch over to the fermentation process of energy production in order to survive.
Poor blood and lymph flow due to a lack of movement and exercise.
1. We can begin oxygenating the body by changing the diet: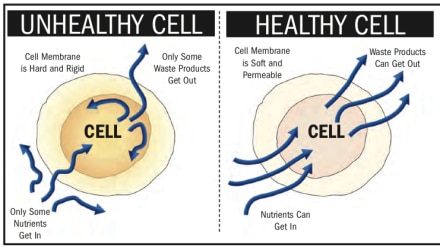 2. The proper building blocks for the cells:

3. Employ a variety of detoxification methods:

4. Ways to oxygenate the blood and increase lymphatic flow:
The Prime Cause and Prevention of Cancer
by Dr. Otto Warburg
Lecture delivered to Nobel Laureates on June 30, 1966
"There are prime and secondary causes of diseases. For example, the prime cause of the plague is the plague bacillus, but secondary causes of the plague are filth, rats, and the fleas that transfer the plague bacillus from rats to man. By the prime cause of a disease, I mean one that is found in every case of the disease.
Cancer, above all other diseases, has countless secondary causes. Almost anything can cause cancer. But, even for cancer, there is only one prime cause. The prime cause of cancer is the replacement of the respiration of oxygen in normal body cells by the fermentation of sugar.
All normal body cells meet their energy needs by respiration of oxygen, whereas cancer cells meet their energy needs in great part by fermentation. All normal body cells are thus obligate aerobes, whereas all cancer cells are partial anaerobes. From the standpoint of the physics and chemistry of life this difference between normal and cancer cells is so great that one can scarcely picture a greater difference. Oxygen gas, the donor of energy in plants and animals, is dethroned in the cancer cells and replaced by the energy yielding reaction of the lowest living forms, namely the fermentation of sugar.
In every case, during the cancer development, the oxygen respiration always falls, fermentation appears, and the highly differentiated cells are transformed into fermenting anaerobes, which have lost all their body functions and retain only the now useless property of growth and replication. Thus, when respiration disappears, life does not disappear, but the meaning of life disappears, and what remains are growing machines that destroy the body in which they grow.
All carcinogens impair respiration directly or indirectly by deranging capillary circulation, a statement that is proven by the fact that no cancer cell exists without exhibiting impaired respiration. Of course, respiration cannot be repaired if it is impaired at the same time by a carcinogen.
To prevent cancer it is therefore proposed first to keep the speed of the blood stream so high that the venous blood still contains sufficient oxygen; second, to keep high the concentration of hemoglobin in the blood; third, to add always to the food, even of healthy people, the active groups of the respiratory enzymes; and to increase the doses of these groups, if a precancerous state has already developed. If at the same time exogenous carcinogens are excluded rigorously, then much of the endogenous cancer may be prevented today.
These proposals are in no way utopian. On the contrary, they may be realized by everybody, everywhere, at any hour. Unlike the prevention of many other diseases, the prevention of cancer requires no government help, and not much money.
Many experts agree that one could prevent about 80% of all cancers in man, if one could keep away the known carcinogens from the normal body cells. But how can the remaining 20%, the so-called spontaneous cancers, be prevented? It is indisputable that all cancer could be prevented if the respiration of body cells were kept intact.
Nobody today can say that one does not know what the prime cause of cancer is. On the contrary, there is no disease whose prime cause is better known, so that today ignorance is no longer an excuse for avoiding measures for prevention. That the prevention of cancer will come there is no doubt. But how long prevention will be avoided depends on how long the prophets of agnosticism will succeed in inhibiting the application of scientific knowledge in the cancer field. In the meantime, millions of men and women must die of cancer unnecessarily."
Cancer is the final and most desperate act of survival that the body has at its disposal, and it only takes control when all other measures of self-preservation have failed.
Instead of viewing cancer as a monolithic "disease," it makes more sense to view cancer as a symptom of cellular and environmental conditions gone awry; in other words, the environment of the cell has become inhospitable to normal cell function, and in order to survive, the cell undergoes profound genetic changes, drawing ancient genetic pathways which we associate with the cancerous personality ( phenotype). This "ecological" view puts the center of focus back on the preventable and treatable causes of the "disease," rather on some vague and out-dated concept of "defective genes" beyond our ability influence directly.
It also explains how the "disease" process may conceal an inherent logic, if not also healing impulse, insofar as it is an attempt of the body to find balance and survive in inherently unbalanced and dangerous conditions. Fundamentally, we need to shift our thinking away from the view that cancer is something unnatural that happens to us, to one where we see that cancer is something natural our body does to survive unnatural conditions. Change and improve those conditions, and you do more to change cancer than attacking it as if you were fighting a war against an enemy. Read more in this article-  Cancer is a survival mechanism that the body employs to survive in a low oxygen, acidic environment
Read more about acid/alkaline balance
Read more about healthy fats vs toxic fats
Read more about essential fatty acids
Read more about detoxing your body.
Read more about Detoxing your liver.
A hypothetical diet and supplement program
Read testimonials of healing cancer naturally
Read The Metabolism of Tumors, by Otto Warburg
Cancer Is Not A Disease – It's A Survival Mechanism
Copyright © 2014 · All Rights Reserved · Cancer Compass~An Alternate Route